For Conversationalists And Public Speaking Enthusiasts…
Easily Get Bigger Laughs When You Tell A Joke
Whether you realize it or not, you have complete control over the laughter impact you get when you tell a common open source joke. You just need to answer this question honestly:
If you would like to get more Response #1 when you tell a joke (a lot more), you might be interested in my own story when it comes to telling jokes…
Testimonial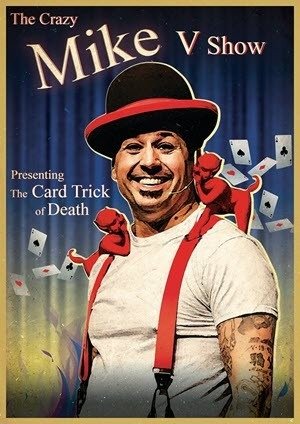 I've been a student of Steve Roye's comedy training for several years, now. Steve is a great comedy coach. When he asked me to review his newest project "Street Joke Secrets", I got excited.
Let me say this right up front – you do not have to be a stand-up comedian to be funny. In this course, Steve has made it super easy for you to add funny jokes to any situation.
I would not endorse anything that I don't actually use and believe in myself. Get this course now! Apply the simple process and you will be the hit of the party.
They'll hit you with pots, pans, rolling pins, whatever they can get their hands on – LOL… Invest in this course now! You can thank me later!
Mike Van De Carr – Comedy Magician
MikeVanDeCarr.com
Nope, I Was NOT A Great Joke Teller
Before I became a professional comedian, I can say with great certainty that I was NOT a great joke teller (I am talking about open source jokes that comedians refer to as street jokes).
I was never that guy who could remember and spit out joke after joke for hours on end. I was lucky if I could tell a joke today that I heard yesterday – much less get any sort of decent laugh when I told it.
Sometimes I would tell a joke and it would work great! But more times than not, it would just flop and I would get Response #2 above. Don't get me wrong…
I've always been a funny guy. That's what led me to stand-up comedy. But as far as telling street jokes and getting big laughs virtually every time I told one…
Well that didn't happen until after a became a comedian and realized just how valuable street jokes could be in certain performing situations.
But being able to tell a joke that gets the big laughs, whether you are shooting the breeze with a friend or you are giving a speech or presentation to a group of people, is a very powerful tool to have in one's belt.
Why Joke Telling Skills
Matter
I believe that everyone knows that one of the most powerful ways to quickly gain admiration, respect and acceptance is to be able to make others laugh out loud!
Telling jokes is one of the most common (and easiest) ways to cause others to laugh.
It doesn't matter if you are telling a joke to friends, family or co-workers. It doesn't matter if you a telling a joke during a speech or presentation.
Few things compare with the sense of accomplishment and shear excitement of causing others to burst out laughing when you tell a funny joke!
But I also know this:
If you tell a joke and it flops, the exact opposite is true. But wait it gets worse…
If a person tells multiple jokes that just lay there like a dead fish and now an opinion is established — one that sticks like glue.
And once a opinion is established that someone really can't tell a joke, people don't care to listen when that person attempts to tell ANY joke.They may even make an assumption that the person is just not that smart or intelligent.
And while people may not overtly comment on a person's less-than-hilarious joke telling ability to their face, they will readily comment about it in a negative way to others.
Think about it…
What did you think the last time someone tried to tell a joke to you and it flopped in a major way? What did you conclude about that person and their sense of humor? Did you comment about that person's lack of ability to tell a joke to someone else?
At this point I think it is important to understand why some people are great joke tellers and why others are not…
Joke Telling Skill Is 100% Learned
Everyone learns the "art" of joke telling informally. It's learned from the people we encounter and observe through the course of our life — starting at a very early age.
It is also learned through a mostly trial-and-error process in order to try to figure out what is funny and what is not funny.
In other words, virtually no one gets any sort of valuable training or usable insight on the true mechanics of great joke telling.
Subsequently, an individual's joke telling skill and ability is usually one of those things that people either appear to be "naturally gifted" at, or they simply aren't.
I know this from my own personal experience…
I was one of those people who could make people laugh easily in a casual conversation or when I was teaching a class.
But when it came to telling a common, everyday joke (what comedians refer to as a street joke), my results were hit or miss at best.
It wasn't until I became a professional comedian that I fully understood why many times when I told a street joke it was about as funny as an ingrown toenail.
It was during my professional stand-up comedy career that I also discovered just how incredibly valuable street jokes could be when I performed at corporate functions and speaking gigs that I landed as a result of my stand-up comedy career.
Based on my own professional experience, here's what I can tell you:
Anyone

can learn how to tell a joke that gets genuine laughs — virtually every single time they tell a joke
If you only learn how to avoid the common mistakes most people make when they tell a joke (like I made before I knew better), you will

dramatically

increase the laughter response you get when you tell a joke
Learning how to tell a joke like a real pro is EASY — you only need to learn and apply the right actionable information to get the laughs you want when you tell a joke
You

do not

need to become a professional comedian in order to tell jokes like a real pro and garner the respect and admiration you want
Let me put this another way…
Your ability to tell funny jokes — in any environment or circumstance — is largely dependent upon your knowledge and ability to:
1. Select the funniest jokes to tell in the first place
2. Adapt those jokes to your own individual speaking style and…
3. Deliver those jokes in a way that will almost guarantee that you get the best laughter response when you tell it
It's usually not a person's sense of humor that keeps them from being able to tell a funny joke on a consistent basis.
It's usually a simple lack of actionable knowledge that keeps most people from being able to tell a really funny joke at any time.
And even though jokes are some of the most powerful communication tools in spoken language, let me ask you this…
Has any expert on joke telling ever taken you aside and showed you all the step-by-step techniques you really need to be able to tell a really funny joke — and get killer results time after time?
That didn't happen to me. And from all of the research I've done, chances are pretty good that it hasn't happened to you either.
Now if what I have presented so far resonates with you, let me introduce you the program of its kind to quickly give you the skills you need to tell the funniest jokes — using strategies and technique that usually only professional comedians know…