Transformed Street Joke Example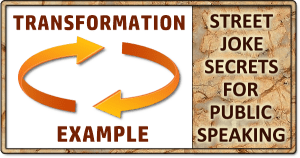 Below you will find an audio example of an open source story street joke that has been transformed into a quick personalized story and introduced using the techniques provided in the Street Joke Secrets For Public Speaking course.
As you will see, the personalization transformation and introduction crafted for this particular example joke is designed for use in between topics of virtually any speech or presentation.
There are two audio versions of the joke — one male voice and one female voice using a more realistic TTS (Talk To Speech) technology in order to provide neutral audio examples as spoken by different genders.
While these examples are certainly not perfect and don't provide the same delivery quality that a real person could provide with genuine expressive voice and body language attributes…
These audio examples (less than 30 seconds) should provide you with good idea of the type of end result that the joke transformation and introduction process provided in the course can help produce.
Note: The audios on this page are provided to illustrate the joke transformation process. There are no audios provided with the example jokes that are used in the course.
Use the link below the audios to reveal the original open source joke.